Saturday, May 29, 2021

ALL DAY EVENT
Walk 17,000 steps for the more than 17,000 York Region residents living with Alzheimer's disease and other dementias
On Saturday, May 29, 2021, we hope you'll join us as we once again walk virtually in support of York Region residents impacted by dementia.
All money raised in York Region during the IG Wealth Management Walk for Alzheimer's stays in the community to help the Alzheimer Society of York Region (AS York) deliver vital programs and services to those living with the disease and their families.
We are challenging participants to be as creative as possible and have fun! Walk 17,000 steps in a day, in a week, over the month of May or combine steps from your team on May 29 or just find an activity you enjoy doing. Every step you take will help people living with dementia, their care partners, and their families in York Region know that they do not walk on this journey alone.
Here are some ideas to create your own walk:
Use your Fitbit, smartphone, or smartwatch step tracker to log your steps and challenge friends to keep pace match your mark using social media.
Do a funky dance in your home, then share it as a video on social media. Remember to tag AS York - Twitter: https://twitter.com/ASYork1, Instagram: alzheimeryr; Facebook: https://www.facebook.com/AlzheimerSocietyYork and #IGWalkforAlz.

Please send your picture to Lisa Day, communications and fund development coordinator, at lday@alzheimer-york.com so she can share on social media, on the website and potentially in wrap-up videos.

Challenge your friends to see who can climb the most stairs.
Your dog can help fundraise, too! Take it out for extra walks and work toward the 17,000 steps.
Ride your bike.
Record messages of support online.
You are invited to create a team or register individually and walk to #makememoriesmatter .
The funds raised through the walk allows AS York to deliver D.A.Y. programs, social worker support, support groups, healthcare navigation, public education and other programs and services for York Region individuals and families impacted by dementia. This year, those supports are needed more than ever due to COVID-19 and the adverse effects of social isolation on our family, friends and neighbours impacted by dementia.
Sponsorship and more information
For more information or to learn how you can sponsor this event, contact Carol Dowell, events coordinator, at cdowell@alzheimer-york.com or 905-726-3477, ext. 244.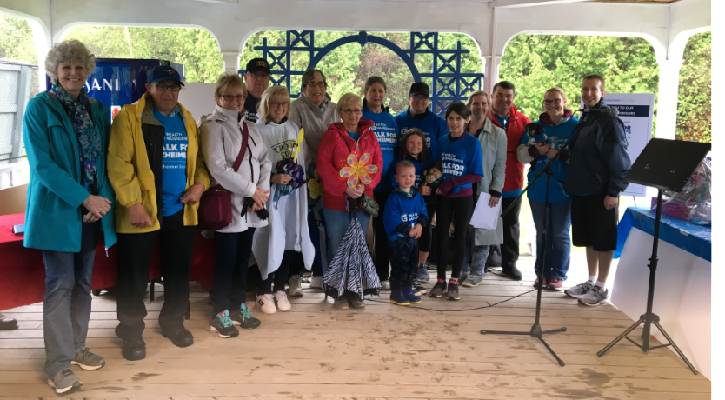 Donate:
Sponsor a Participant or Team:
Participate:
Honour Roll: Participants