IG Wealth Management Walk for Alzheimer's moves online! CLICK for more information.
Event Details
Date: Sunday, May 31, 2020
Time: 12:00 PM - 1:30 PM
Event Location: ONLINE! https://www.facebook.com/AlzheimerSociety, Across Simcoe County, Ontario
Contact: Katherine Breeson Email: events.simcoe@alzheimersociety.ca
Phone: 705 722-1066
THE WALK IS ALMOST HERE!
THERE IS STILL TIME TO REGISTER!
Join us on Sunday, May 31, 2020 for our annual IG Wealth Management Walk for Alzheimer's!
Join The Alzheimer Society of Simcoe County and Alzheimer Societies coast-to-coast, starting at 12noon EDT, for a fun and exciting "televised" event from your computer. The event can be watched from anywhere with an internet connection! Bring together family, friends, and neighbours to support the ALZHEIMER SOCIETY OF SIMCOE COUNTY by walking virtually together to show you care.
Please practice safe steps – keep physical distance! Let's connect to walk and walk to connect!

SUNDAY MAY 31st is RAISE THE DOUGH DAY
Thanks to Domino's Barrie, Alliston, Angus, Midland, Orillia, Wasaga Beach and Collingwood!
Order the "Alzheimer's Walk Special" from Domino's on Sunday May 31st.
The Alzheimer's Walk Special consists of Two Medium, Two Topping Pizzas, and an order of Cheesy Bread for only $20.99 +tx.
Domino's will donate $5 from every Alzheimer's Walk Special ordered on this day back to our cause. ANYONE can order this special: friends, neighbours, family, co-workers etc. So mark it on your calendar and spread the word! Available at these locations:
North Barrie 201 Cundles Road East (705)726-0230
South East Barrie 827 Big Bay Point Road (705)722-5000
South West Barrie 490 Mapleview Dr W (705)728-0330
Alcona 1354 Innisfil Beach Road (705)615-1516
Angus 138 Mill St (705)516-6666
Alliston 50 King St (705)434-2020
Collingwood 290 Hurontario St (705)446-3090
Wasaga Beach 1441 Mosely St (705)429-9994
Midland 741 Yonge St. (705)526-8000
Orillia 205 Memorial Ave (705)325-4433

*This special can be ordered for pick-up or delivery. Delivery area is limited. Delivery charge does apply.*
For more information about the Alzheimer Society of Simcoe County, please visit our website at www.alzheimer.ca/simcoecounty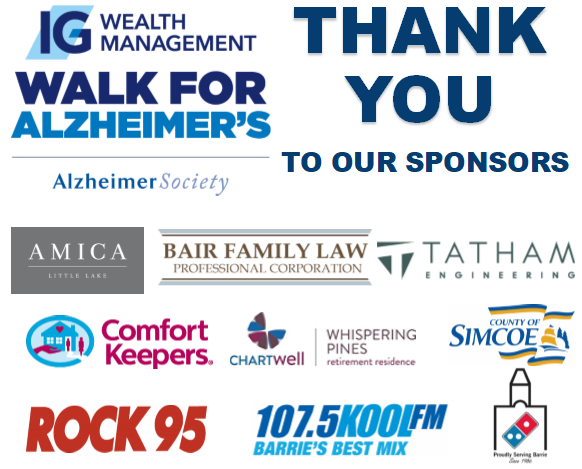 Donate:
Sponsor a Participant or Team:
Honour Roll: Participants