IG Wealth Management Walk for Alzheimer's moves online! CLICK for more information.
Event Details
Date: Sunday, May 31, 2020
Event Location: , Thunder Bay
Contact: Alzheimer Society of Thunder Bay & Northwest Region
Phone: 807-345-9556 ext. 2010
Email: awareness@alzheimerthunderbay.ca
Event Information:
Get ready for the first virtual IG Wealth Management Walk for Alzheimer's, in support of the Alzheimer Society Thunder Bay. While we can't physically walk together right now, we can still connect virtually and have fun as a group!
On Sunday May 31, 2020, we will ask walkers to move any way they can! Do a dance, walk the stairs, jump rope, walk around the block. Challenge friends, family, neighbours and co-workers to join you and let's show the world that our connections matter.
Throughout the day on May 31st, we will be hosting a live broadcast on our Walk website and Facebook page (12:00pm), showing walkers across Canada moving any way they can! We will also have videos of musical guests, the Alzheimer Society staff, and a National Government representative.
While the Alzheimer Society Thunder Bay has gone remote, we are still here working around the clock to bring online and telephone support to caregivers, families and all those living with dementia.
For those of you who have the ability, we need your support now, more than ever before. We have many ways to connect you to your community and help you to reach out and have meaningful impact. Together we can make a difference.
There are two different ways you can support the IG Wealth Management Walk for Alzheimer's:
1) If you have access to a computer, you can support the Walk by:
a) Registering yourself or a team online by going to www.walkforalzheimers.ca
b) We will share exciting new virtual activities in preparation for the Walk! You can also download Window poster and Forget-Me-Not colouring pages to post in your window or on your door!
c) If you have a Facebook account, let us know what your move is by posting photos or videos using the hashtags #igwalkforalz and #ourconnectionsmatter
2) If you Don't have access to a computer, you can support the Walk by:
a) Calling 345-9556 to obtain a pledge form
b) Ask your friends or family to donate to your team. We want to ensure our clients and supporters are staying safe during Covid 19, so we do not encourage face to face solicitation. If you would like to obtain in-person donations, please do so in a way that is safe and in a social distance manner.
We will be hosting a Drop-Off day, on Sunday, May 31st from 10:00am-4:00pm at the Alzheimer Society office (180 Park Avenue), at Northstar Air (1480 Walsh St. W), Maaco Collision Repair & Auto Painting (554 Squier St.). All precautions will be taken.
Every move you make and share can help a caregiver, person living with dementia, health care worker or support person. Be well. Stay home. Stay safe. Make Memories Matter.
RAISE FUNDS FOR LOCAL FAMILIES AND YOU COULD WIN
Highest Pledge Earner: Sailing Package for Two, Overnight Stay at theTownplace Suites, LCBO gift card
Highest Family & Friends Team

: $500 Dinner Party, courtesy of The Keg Steakhouse and Bar

Highest Corporate Team: Bowling Pary for 10, courtesy of Mario's Bowl
$600 Club: All Walkers who raise $600 or more will be invited to a post-walk private event!
Waterfront BIA Bucks: The first 60 walkers to register will receive $5 Waterfront BIA Bucks!
BOGO Pizza or Pasta coupon from Boston Pizza to al REGISTERED walkers, to use on May 31st!
SPONSORS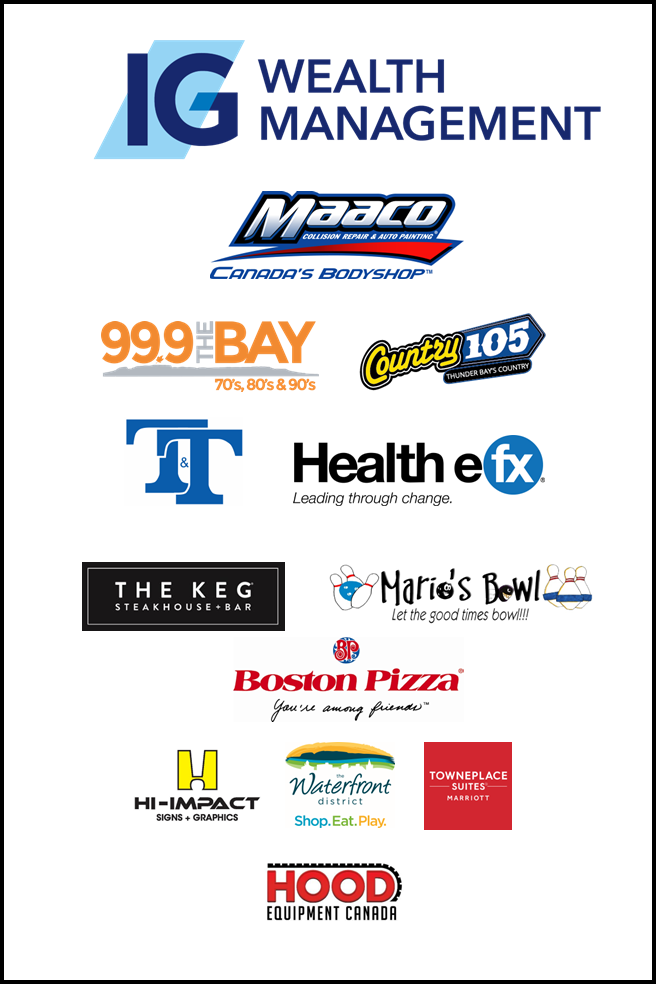 Donate:
Sponsor a Participant or Team:
Participate:
Honour Roll: Participants