How many steps will you take to support people living with dementia?
The IG Wealth Management Walk for Alzheimer's is back and we're challenging YOU to walk 3047 steps each day in May and to fundraise in honour of the 3047 people living with dementia and those that care for them in Huron and Perth County.
Starting in May, you can complete your steps in any way that you choose—in one day, in one week, or over the whole month! This challenge is for everyone, so make sure to get your friends and family involved and hit your 3047 steps by heading out on a long walk, dancing, or by doing an active exercise activity of your choice!
Event Details
Date: Saturday, May 28, 2022
Time: 10:00 AM
Location: Central Huron Community Centre Clinton Ontario
Contact: Erin Dale
Phone: 519-482-1482
Email: events@alzheimerhuron.on.ca

By participating or pledging towards a walker or team, you help support programs and services for persons affected by Alzheimer's disease and other dementias in Huron and Perth County.
Make your move with us.
On social media using the hashtag #igwalkforalz to share with others the impact you are making.
Throughout the month of May and culminating on May 28, together we will move in our own way to show support and awareness for Alzheimer's across Canada.
Spread the Word! Please reach out and connect with friends, family and neighbours. Every move you make and share can help a caregiver, person living with dementia, health care worker or support person.
Together, we will make memories matter.
Team Challenge:
Walk onlilne as a family, organization or workplace and take the Team Challenge. Be creative - make your own t-shirts to promote your team and demonstrate your team spirit!
Sponsors
Thank you sponsors for supporting the IG Wealth Management Walk for Alzheimer's.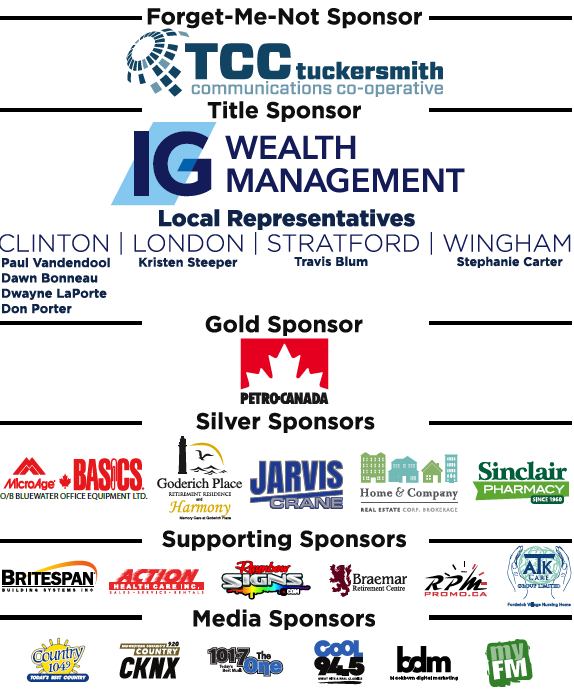 Contact us to join the event as a sponsor.
Donate:
Sponsor a Participant or Team:
Participate:
Honour Roll: Participants